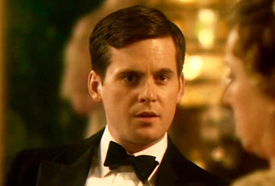 Genre
ITV period crime drama adaptation of Agatha Christie novel
Writer Guy Andrews (screenplay)
Director Ashley Pearce
Synopsis
Series 11 Episode 4 of the long running ITV series. Holidaying in Jerusalem, Poirot overhears Raymond Boynton telling his sister: "You do see, don't you, that she's got to be killed?" Their mother, Mrs. Boynton, is a sadistic tyrant who dominates all the younger members of her family, and who attracts the strong dislike of a group of people outside the immediate family. But when she is found dead, there are only twenty-four hours for Hercule Poirot to solve the case and he has no way of even proving whether it was murder.
Tom's role
Raymond Boynton
Broadcast dates / DVD release
ITV 25th December 2009 DVD release of Region 2 (series 11) in Oct 2008
Masterpiece Theatre US 25 July 2010
Filming Locations
Appointment With Death was filmed in Casablanca and El Jadida in Morocco, as well as the UK.
Links